Continued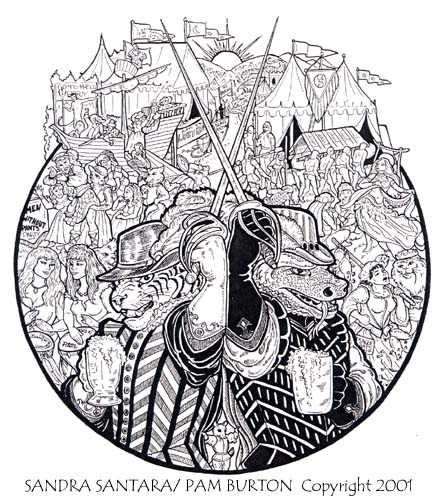 So with numerals like XXX, what better way to do a T-shirt then with a party! I asked my 'cohort in crime' Pam Burton to join me on this venture. She can do great charactors and I wanted a Mad magazine take, so I laid the design out and did my to anthros. She did all the fun bits including us drumming together. There are many scenes depicted only known to those who attend and party at war. A good time was had by all!
The shield I mentioned in my 2002 Pennsic post, I do not have a copy to show you. It was on the back of the Party Pennsic design and featured the kingdoms in a shield. I thought I covered all but sadly, was made aware that I left out 4 kingdoms including the one that was hosting the war! Nobody was upset, they just had a good time teasing me about it!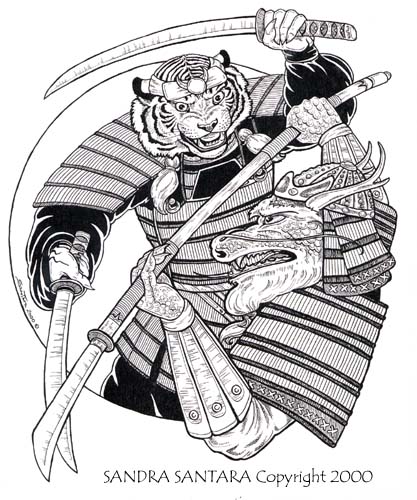 I love Asian themes and had to do a Japanese one. The tiger, I think is great in this and really fitting the theme, naturally. Also reminds me of 'Samurai Cat"

Pennsic War XXVIII
Middle Eastern Lovers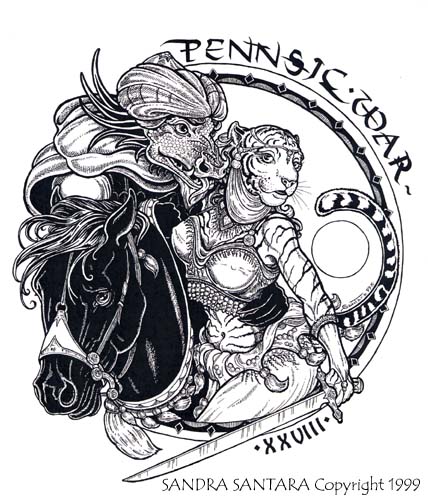 May first lovers design and a personal favorite. I enjoy old middle eastern culture and often dress in the garb. I liked the idea of doing the sheik running off with his 'willing' victim though it really makes you wonder what she is planning with that sword. This lovers design was very well received.

Pennsic War XXVII
A Scottish Pennsic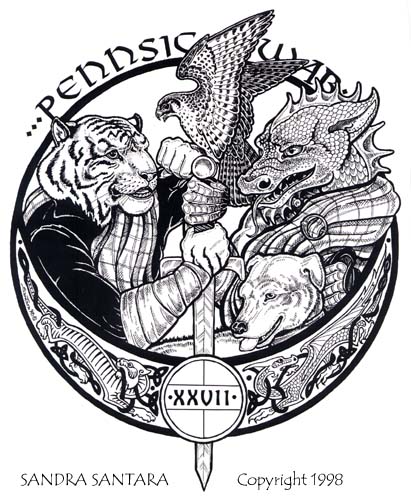 My third design and I wanted to do a Celtic theme. It somehow turned into a Scottish one instead. I liked the brooch design and the knots in particular.

Pennsic War XXVI
?????
The 'sometimers' has kicked in. I know I did a design for this year but can not find the image and can not remember what theme it was!! Geesh!! It makes me wonder...... 1997, I guess it was not a memorable year.....

Pennsic War XXV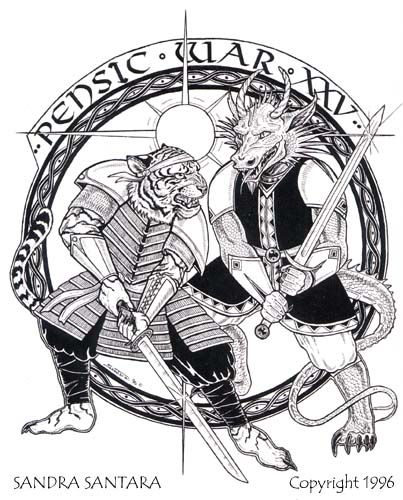 Where it all began. The first year I was not in the bazaar and was in my own tent on Fleet Street, it was the Pennsic 25th year anniversary. I thought I should give it a shot and do a T-shirt design for the war. I was nervous, will it sell? Well, it did and the rest is history!

All images are copyrighted and digitally copyrighted for the web.
Use and duplication is strictly prohibited without written permission
and consent of the artist.
Please read the legal information.