So here is the secession of designs starting with my most recent.

Pennsic War XLV
~~ Took a break from War ~~

Pennsic War XLIV
~~ Beastiary Illuminated ~~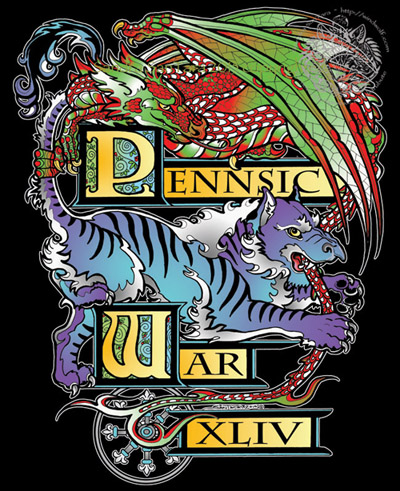 Pennsic War XLIII
~~ Game of Thrones ~~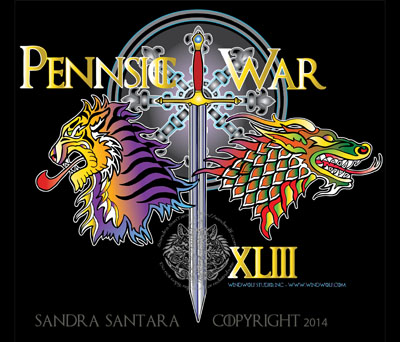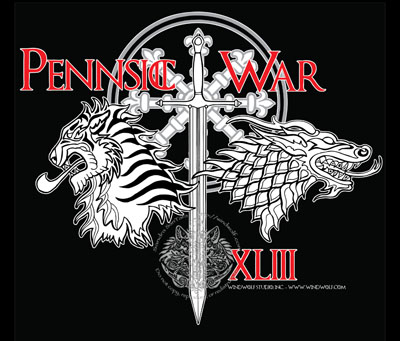 Pennsic War XLII
~~ Honor, Fellowship, Virtue, and Glory~~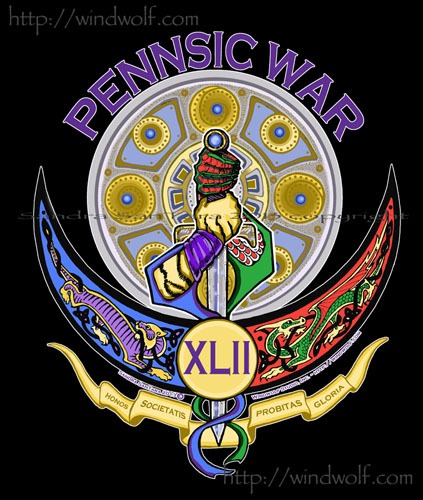 Pennsic War XLI
~~ Make Joust Not War~~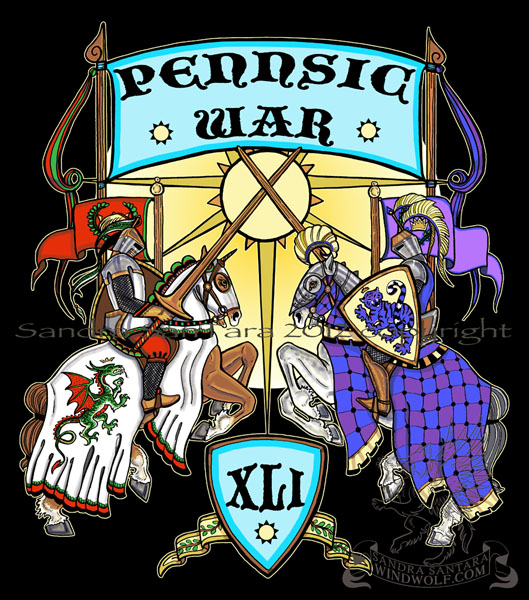 Medieval Jousting! May the games begin!

Pennsic War XL
~~ Medieval Illuminations~~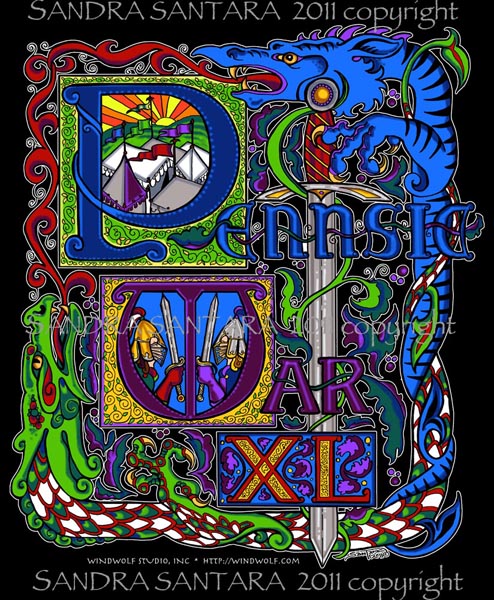 To celebrate the 40th year of Pennsic War I planned a classic Medieval Illumination design. I had a fun time creating the piece and making it so very colorful!

Pennsic War XXXIX
~~ Norse Knot~~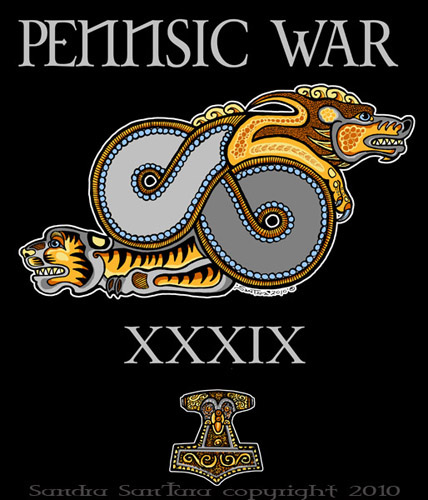 A color version of an older black and white design I did for the back side of Pennsic War XXXIV. A bronzed Norse Knot featuring the East and Middle kingdoms accompanied by a Thor's Hammer.

Pennsic War XXXVIII
~~ Coat of Arms~~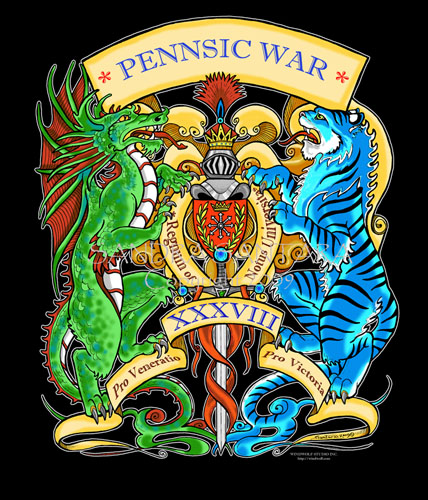 Long overdue to do a design for the T-shirt this year that is very traditional. I even made the tiger blue! Had a great deal of fun researching it and even translating the English to Latin. The Latin reads ' Kingdoms of the Known World' and then below is 'To Honor' and then 'To Victory'

Pennsic War XXXVII
~~ Celtic Knot~~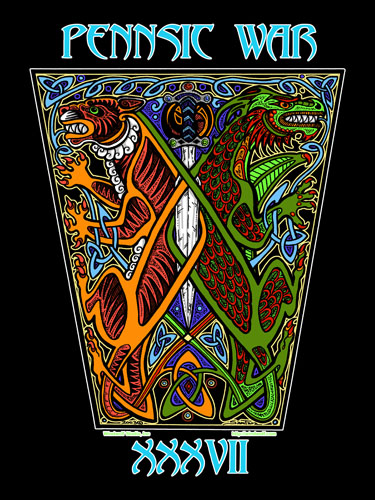 New Pennsic War tee for this year, a revision of a old war back tee design from Pennsic War XXXII. Mainly because it is a cool design and I am lazy. :P
One sided only this time, nothing fancy and will be available in all the usual colors.
I colored it in Photoshop, that was fun with no Wacom tablet but I got her dun!

Pennsic War XXXVI
~~ Spartan Warriors ~~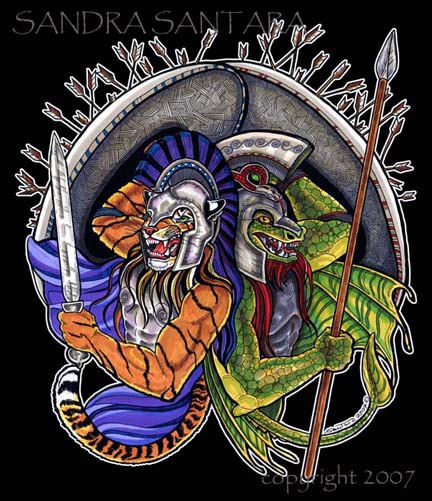 Backside of tee and the logo for this year.
I am using a more Greek style lettering but will let my printer add it this time.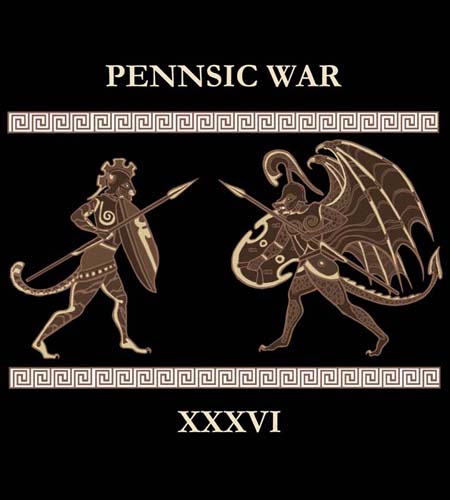 I could not help myself. After doing last year's Persian theme and the movie 300, I had to do a Spartan theme. I like the way the logo came out this year.

Pennsic War XXXV
~~ Persian Warriors ~~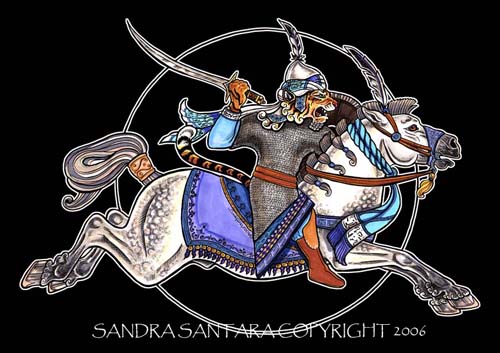 Persian Tiger Warrior -- above
This years theme is Persia. I had allot of fun researching it and its connections to Egyptian and Babylonian cultures. I wanted to hold to the Persian look of the stone carvings I checked out but with some animated realisum as well.
Persian Dragon Warrior -- below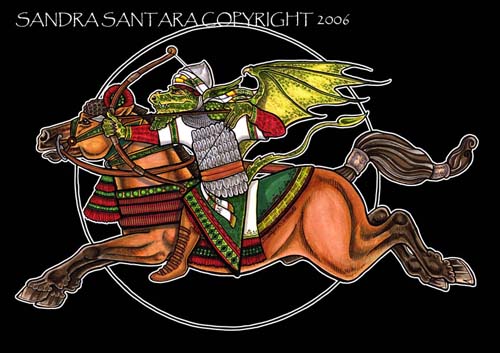 Pennsic War 35 back logo -- below
Persian Gryphons and the Ahura Mazda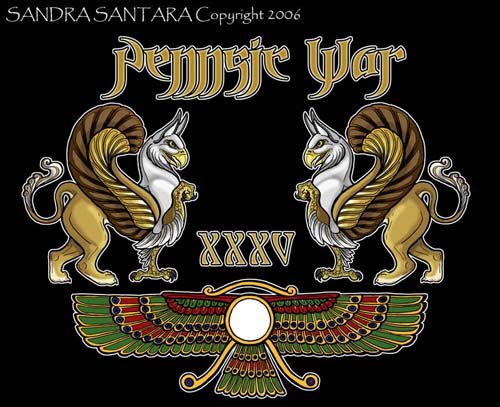 Pennsic War XXXIV
Norse Invasion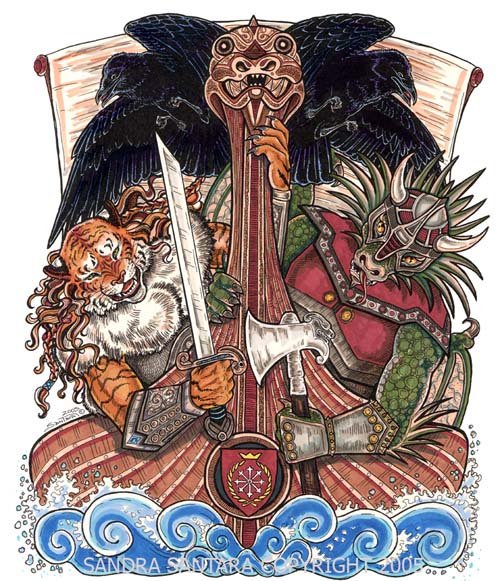 Above is the front design. So to counteract last years theme, this year I give an invasion of plundering, blood and all out Viking may lay. You asked for it. :)
Below is the back piece
If you wish to order ahead of the war, go to my T-shirt page to order one. I can ship you one after the war or have it ready for you at war. This is good for those big sizes I always run out of.