Painted Drums
This page features some of the painting I have done on drum heads. I do these in acrylic and it has been my experience that it does not scratch off unless you are really abrasive on the surface. I have my Ashiko drum head painted that I use and play hard on and it still looks great.
The work I have done on drums is personal, symbolic, one of a kind pieces. Some are used for spiritual work, others for display.
If you are interested in commissioning a painting on a drum head, please email: orders@dancingwolf.com for an estimate. Paintings start from $400.00, simple detail on a 14 inch hoop drum to a full detailed painting for $1400.00 on a 20 inch hoop drum head. I would also be interested in painting Mother Drums too.
I now get my drums from The Different Drum by Don Schulz and cost extra depending on size, skin type, etc. Please contact me for more info and availability.

This Purchase button is for confirmed commissions only.
If you want a hand painted drum, please contact me here:
Commissioned Drum Painting Original - $400.00


Below is a sampling of drums I have painted
More images and videos can be found on my Facebook page:
http://www.facebook.com/WindwolfStudio/
Prints available on many of these images!

Walkers Between Worlds
Jaguar Dreams Drum
Painted in acrylic on a 20 inch cow skin hoop drum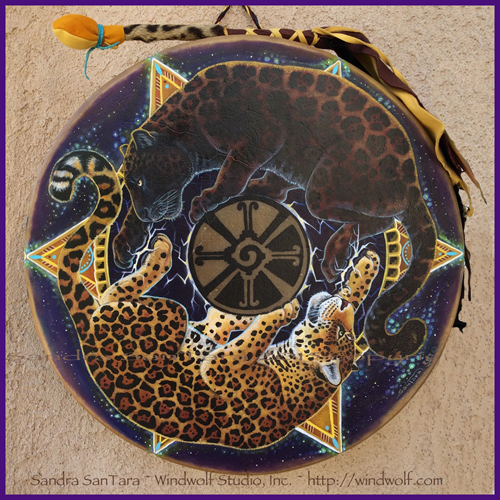 Acrylic on a 12 inch cow skin hoop drum

Painted in acrylic on a 20 inch buffalo skin hoop drum and adorn with cut out deer skin leaves.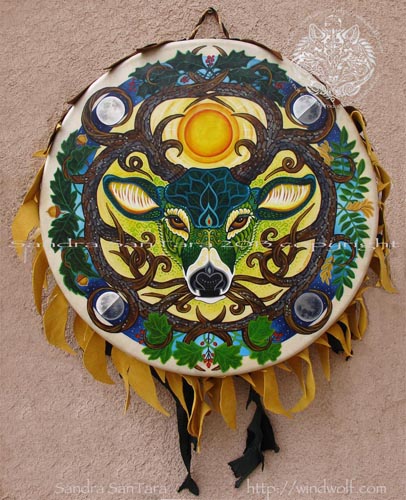 Painted in acrylic on a elk skin 16 inch hoop drum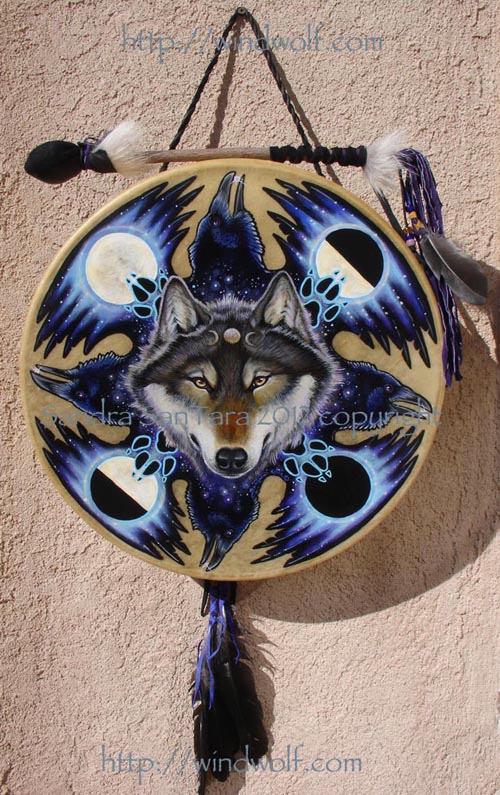 Autumn Kitsune Fox Spirit Drum
Acrylic on a 15 inch cow skin hoop drum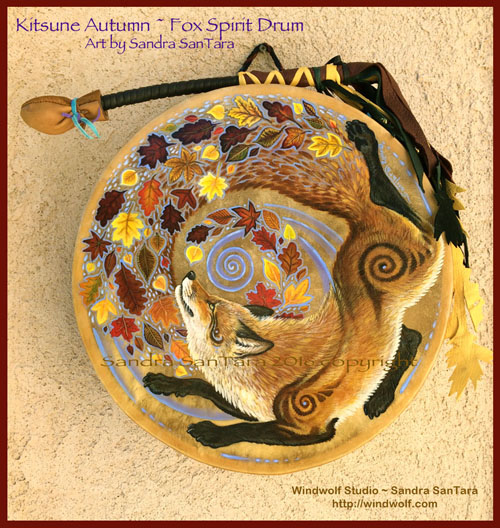 Dance of Life Hummingbird Mandala Drum
Acrylic on a 12 inch cow skin hoop drum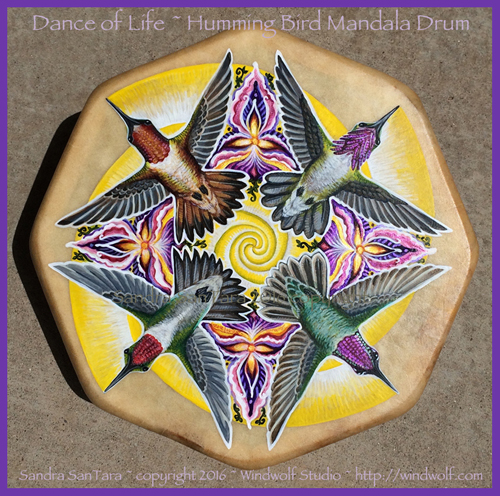 Warped Coyote Drum
Acrylic on deer skin drum.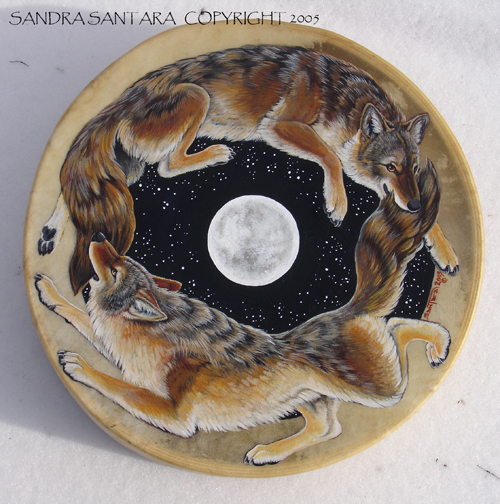 North Totem Medicine Drum
Acrylic on American Buffalo Skin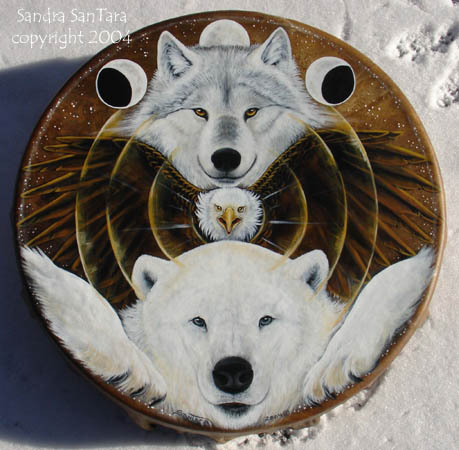 With adornments of turkey feathers, wolf fur, deer skin, and beads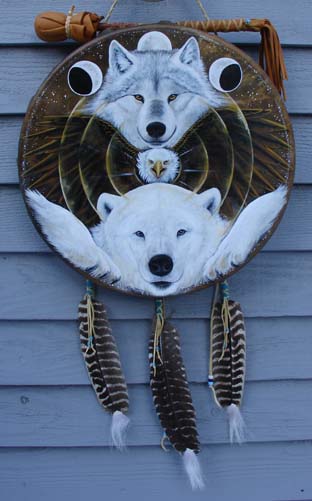 White Puma White Buffalo Drum
Acrylic on a American Buffalo skin drum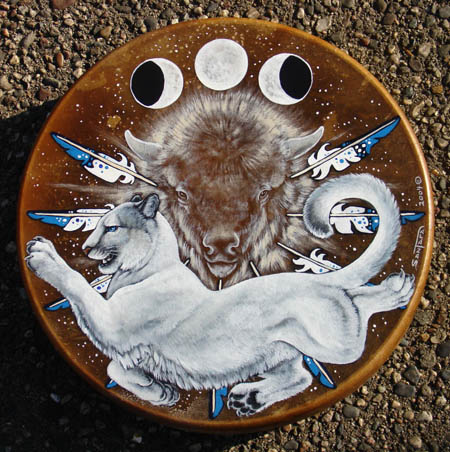 Hawk Fox Spirit Dance Drum
Acrylic on a synthetic drum head. This was a challenge since I had to treat it with allot of workable fixative just to get the paint to stick. It plays great and the painting is holding up well after 20 years.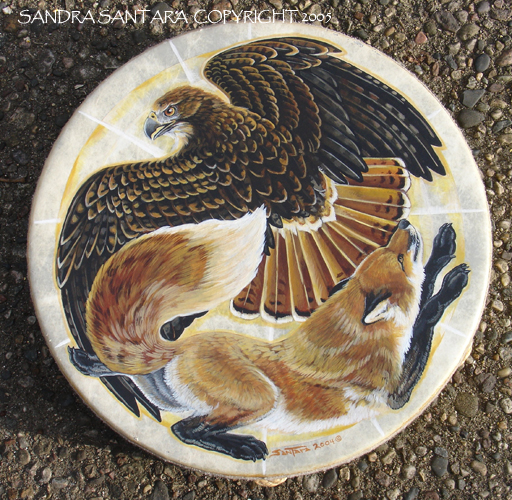 Goldenwolf Drum
Arcylic on deer skin drum