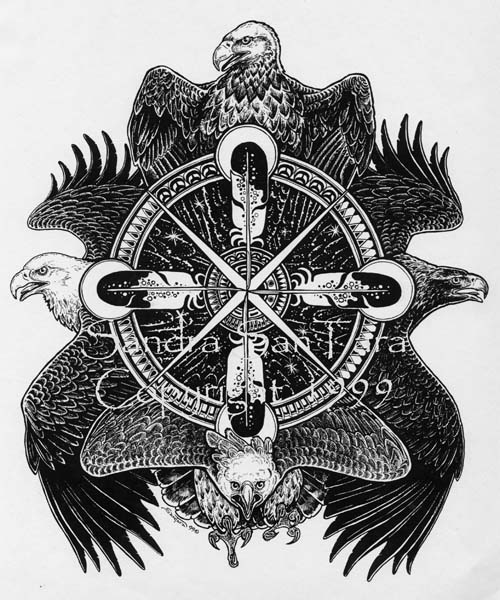 EAGLE SPIRIT SHIELD
This piece is part of the 'Spirit Shield' series which is loosely based on the 'Medicine Wheel' of the Native Americans, the 'Mandala' of the Tibetan and East Indians, and the 'Wheel of the Year' based on Celtic/Pagan Spirituality coupled with my own meditations on it's symbolism and meanings. This particular piece features different Eagles of the Americas: the Bald Eagle in the East, the Harpy Eagle in the South, the Golden Eagle in the west, and the 'Spotted Eagle' in the North. The 'Spotted Eagle' is the immature phase of a Bald or Golden Eagle. The Lakota and Dakota Indians revere it as the most sacred of the Eagles. For me, Eagle represents 'Spirit' or 'God' The one who is the connection to the heavens and the Sun.
This print is a off-set lithograph, signed,
numbered and limited to 500 in the edition.
Artwork by Sandra SanTara
Copyright 1999 All rights reserved
Please read the legal information