AMERICANA CAT SPIRIT SHIELD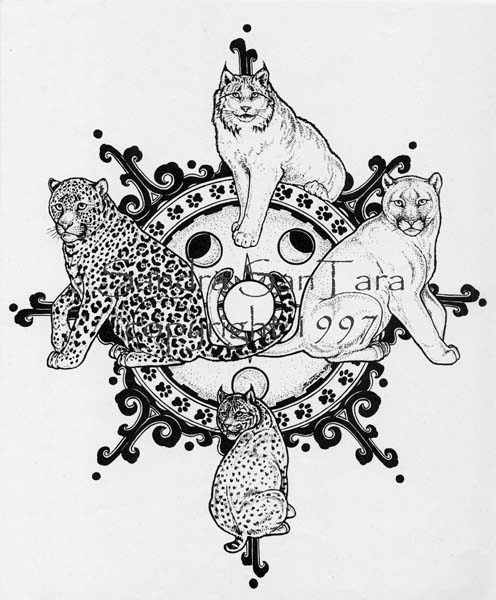 This print is a off-set lithograph, signed,
numbered and limited to 500 in the edition.
---
This piece is part of the 'Spirit Shield' series which is loosely based on the 'Medicine Wheel' of the Native Americans, the 'Mandala' of the Tibetan and East Indians, and the 'Wheel of the Year' based on Celtic/Pagan Spirituality coupled with my own meditations on its symbolism and meanings. This piece features different cats of the Americas: the Puma in the East, the Bobcat in the South, the Jaguar in the west, and the Lynx in the North. Cat 'medicine' for me connects the Sun and the Moon elements together. A feminine energy that speaks of one stepping into their power with a masculine assertion of self. Particularly of Women, connecting with the 'huntress' energy. The Circle is also based on the Aztec and Hopi Indian artwork.
---
Artwork by Sandra SanTara
Copyright 1997 All rights reserved
Read the legal information